Using NEOS
You can submit your model to be solved at NEOS via the neos terminal command. Use the command line helper graphical interface to execute a neos command: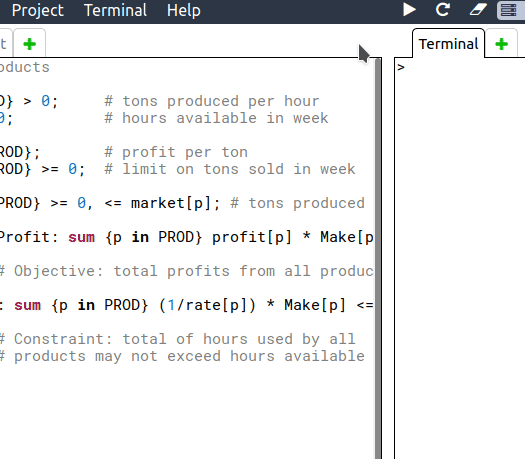 Alternatively, type your command directly into the terminal. Checkout out our NEOS usage examples.
Limitations of NEOS and of the
neos

command
NEOS doesn't know your project structure
File reading commands such as data in AMPL and $include in GAMS are pretty much useless in NEOS. There are two main reasons for that:
In each neos execution, only the files that are specified in the command line are sent to NEOS.
The files that you submit to NEOS are renamed internally, so you will not be able to refer to them with their original names.
Therefore, unless you are refering to files that you create dynamically, during the execution of your program, you should avoid using file reading commands.
Interpreters run in restricted modes
AMPL is executed with the -R command line option, which puts AMPL in 'server mode'. In this mode, it declines to execute cd and shell commands, forbids changes to options TMPDIR, ampl_include, and PATH (or the search path for the operating system being used), disallows pipe functions, and restricts names in option solver and file redirections to be alphanumeric (so they can only write to the current directory, which, on Unix systems at least, cannot be changed).
GAMS is executed with the command line option -execmode=3, which sets the restriction level to 3. In this level, embedded code and all $call and execute commands are prohibited, and $echo and put commands can only write to directories in or below the working or scratchdir.
Time and memory limits
By default, your jobs will run for at most 5 minutes. If you need more time, use the --priority long command line option, which will allow your job to run for at most 8 hours. However, the output of long jobs can only be seen after completion. Additionally, every job submitted to the NEOS Server is limited to 3 GB of RAM. Learn more at the NEOS FAQ.
Unsupported files
There is no way to submit any kind of binary file to NEOS, which means that .xls and .xlsx files are not supported. Additionally, NEOS will not accept input files larger than 16 MB.
List of available solvers
Use the -s <solver_name> command line option to select one of the solvers below:
AlphaECP
ANTIGONE
ASA
BARON
BiqMac
bnbs
Bonmin
bpmpd
Cbc
Clp
concorde
condor
CONOPT
CONVERT
COPT
Couenne
CPLEX
csdp
ddsip
DE
DICOPT
Domino
DSP
ECM
feaspump
FICO-Xpress
FilMINT
filter
filterMPEC
Fishwerks
icos
Ipopt
JAMS
Knitro
L-BFGS-B
LANCELOT
LGO
LINDOGlobal
LOQO
MILES
MINLP
MINOS
MINTO
MOSEK
MUSCOD-II
NLPEC
nsips
OCTERACT
OOQP
PATH
PATHNLP
pensdp
PGAPack
proxy
PSwarm
qsopt_ex
RAPOSa
RELAX4
SBB
SchedulingApp
scip
scipsdp
sd
SDPA
sdplr
sdpt3
sedumi
SHOT
SNOPT
SoPlex80bit
SYMPHONY
xpress